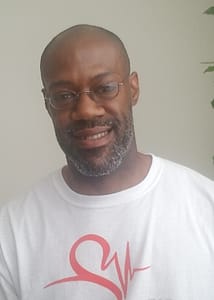 Offering Personal Training In: Orlando FL and surrounding areas.
My name is Chris and I am a In Home Personal Trainer Orlando FL. I was born on March 26, 1980 in Fort Smith, Arkansas. The only child of Vincent Ward and Sherry Jackson. I have one son and I am single.
I graduated from Fort Scott High School in Fort Scott, Kansas in 1999, where I participated in Basketball and Track & Field. I qualified for state in Track and Field Junior and Senior years. I attended Independence Community College in Independence, Kansas on a Track Scholarship where I earned my Associates Degree in Business Management and was part of a NJCAA National Qualifying and All American 4x100m Relay Team.
I completed my education and running career at Charleston Southern University in Charleston, South Carolina with my Bachelors Degree m and 23.2″-Long Jump with Conference Champion and All Conference accolades. After I graduated I became a Collegiate Track and Field Coach. During those 7 years I attained great knowledge coached great athletes and had great success.
After my coaching career ended in 2013, to the suggestion of my best friend who I trained in preparation for the NFL combine I became a Certified Personal Trainer in October of 2014. Over the past 4 years the same principles and expertise that allowed me great success in coaching I now apply to my personal training to help my client achieve their goals. A long this journey I had the opportunity to work in Retail as a General Manager and in Hospitality as an Assistant General Manager to enhance my customer service skills. It's all about my client, my clients goals and my clients best as a In Home Personal Trainer Orlando.
I have worked out with clients ages 9 to 81 years old. I was able to help one of my clients lose 20lbs in one month, able help my 81 year old client walk up stairs after two years of not being able to and help two athletes improve there speed to attain scholarships in football and baseball. I relocated to Orlando, Florida 2 years ago to grow and pursue my best life, so I can live a satisfied and fulfilled life. I have and will continue to pursue this life living through my passions and purpose, which is you!!!!!!
Kinesiology – B.S.
Master Personal Trainer
Fitness Nutrition Specialist
Endurance Training Specialist
Resistance Training Specialist
USATF Level 2 Sprints Coach
CPR/AED Certified
Learn more about In Home Personal Training in Orlando FL with Chris. Submit your name, e-mail, address, city and any comments/ questions you might have.