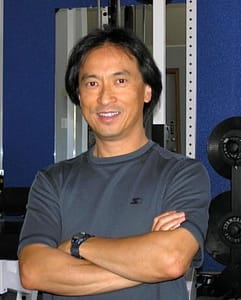 Offering Personal Training in: Conifer CO, Bailey, CO, Pine, CO, Morrison, CO Marshdale, CO and Evergreen, CO
Sam can get you where you want to be. He is a Personal Trainer in Bailey, CO. He played Varsity Tennis in High School and through College and also competed in freestyle skiing. He is an avid Road/Mountain Biker, Golf enthusiast, and plays most all sports. Playing on the "edge" has helped him understand what it takes to push one's self. His guidance can help you to do better than you ever have in whatever sport, activity or lifestyle you choose.
Over 19 years of experience to guide you. Lose weight? Gain weight? Add muscle? Excel in sports? Get flexibility and strength without pain? Change your lifestyle? Whatever your wants and needs, he can get you there in a healthy way, whether you have never worked out or you are an elite athlete. Group classes are also available. He has and continues to help many achieve their goals more quickly. Follow his plan that is created for you and realize your goals sooner than later. You will gain more confidence, create more power, agility and speed, and therefore increase positive performance, by creating a better ability to play the sports.
He works with athletes from 8 years old and up as a Personal Trainer Bailey CO. He trains never-evers to Olympic athletes and hopefuls. Many of his clients are Middle and High School athletes as well as recreational athletes looking to rehabilitate and prevent injuries in order to excel in their respective sports.
If you have nagging, chronic pain, are going into surgery or coming out of surgery, my techniques can help you eliminate chronic pains and discomforts, prevent and/or recover quickly from surgery, while gaining strength and flexibility. Low back pain, sciatica, shoulder and neck injuries, carpal tunnel syndrome, etc. can be relieved or eliminated within weeks, or even days. Creating a fit life will make you feel better about yourself, the way you move, the way you think, and the way you look. Lose the weight, gain the muscle, get "toned" or pumped up, while feeling more energy. He can help you change from "ordinary" to "extraordinary".

Personal Trainer Bailey CO Sam. as

ISSA (International Sports Sciences Association) Certified Personal Trainer
ISSA Certified Fitness Therapist
ISSA Certified Youth Fitness Trainer
Golf Conditioning Specialist
Hip and Knee Replacement Therapy
Shoulder Therapy
Kinetic Anatomy
CPR/AED
Learn more about Personal Training in Bailey CO with Sam. Submit your name, e-mail, address, city and any comments/ questions you might have