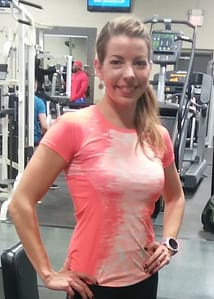 Providing Personal Training in: Center Valley PA, Allentown, PA,  Bethlehem, PA, Saucon Valley, PA, Emmaus, PA, Macungie, PA, Lehigh County, PA
Hi! My name is Amanda, I'm a Certified Personal Trainer in Center Valley PA and the local area. I have 8 years experience working with clients of all ages and fitness levels. Everyone has unique needs, struggles, and challenges…no matter what the case, I'll be there to help you. I specialize in In Home Personal Training and I can create a plan tailored to YOUR goals, which you can perform at your venue of choice at a time that's convenient for you.
Whether your goal is to lose fat, train for an endurance event, or to simply feel better…I'll get you there! You'll receive in-depth coaching, support, accountability and motivation from me to ensure success.
Ask about my complete 20-week training programs for half and full marathons! Even for the beginners out there – with me, you CAN get to that finish line feeling great!
I also provide nutritional coaching from beginner plans to more accelerated, as what you're eating is crucial to seeing results.
A little about me…I've had a lifelong passion for fitness. I've been a competitive runner for the past 25 years, and know distance training inside and out. I've finished 12 marathons, including Boston and New York, with a PR of 3:06. I've also competed in National Physique Committee competitions from 2011-2015, and was successful on both the Bikini and Figure stages. Through this experience, I gained a tremendous knowledge of results-focused training and clean eating, which I pass on
to my clients.
Contact me today, and together we'll improve your lifestyle!
Personal Trainer Center Valley PA Amanda
AFAA Certified Personal Trainer
Understanding Dietary Guidelines and Fitness Trends
National Physique Committee Competitor
CPR certified by the American Heart Association
Nutritional Strategies/ Clean eating
Learn more about Personal Training in Center Valley PA with Amanda. Submit your name, e-mail, address, city and any comments/ questions you might have