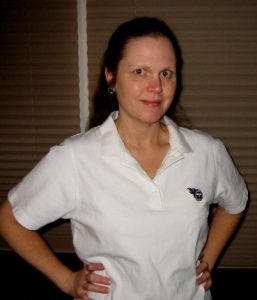 Offering Personal Training in: Allentown, PA, Bethlehem, PA, WhiteHall, PA, Northampton, PA, Walnutport, PA, Lehigh Valley, PA
Hi My name is Kristen. I am a Personal Trainer in Whitehall PA and the local areas. I am committed to helping people gain the best possible health and fitness they can achieve in both body and mind.  I have a bachelor's degree in Exercise Science and a Master's degree in Health from East Stroudsburg University.
I have been personally involved in exercise and nutrition for the past twenty-three years. I enjoy gardening, hiking and mountain biking. I also enjoy beating me husband at racquetball. I raised and trained registered quarter horses for fifteen years.  
I have designed and monitored exercise programs for people to strengthen and excel in their activities of daily living. I have developed and taught motor control and coordination skills for MS, Parkinson's and arthritis patients. I have also developed and taught dry land training for junior varsity and varsity swim teams and taught strength training for older adults and taught strength training for junior varsity and varsity ice hockey
I look forward to helping you with your fitness goals.
Exercise Science Alliance
Medical Exercise Credential
Group Fitness Instructor
PACE Exercise for Arthritics
Red Cross CPR Certified
Learn more about Personal Training in Whitehall PA and the local areas with Kristen. Submit your name, e-mail, address, city and any comments/ questions you might have.