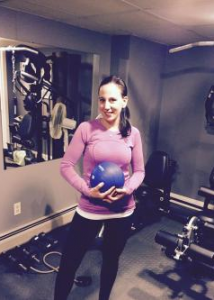 Offering Personal Training in: Little Falls, NJ, Totowa, NJ, Parsippany NJ and the local areas
Meredith is a in home personal trainer who services Parsippany, NJ and the surrounding areas.  
I am a NASM certified personal trainer specializing in helping women get fit. By providing in home training, there are no excuses and just positive changes. I provide a supportive and motivated partner who can help you reach your goals!
I give you a great workout in the privacy and convenience of your own home.  I incorporate many tools to keep the workout varied and challenging.  I have experience in TRX, weight training, BOSU, kickboxing and core training.
I also provide tips on making sure you are getting the right nutrition as that's a big part of the equation with any fitness goals.  Also, my clients see their progress through monthly measurements both circumference and bodyfat.   
Contact me today for a consultation and to speak about your fitness goals!
NASM Certified Personal Trainer
CPR/AED Certified
Learn more about Personal Training in Parsippany NJ and the local areas with Meredith. Submit your name, e-mail, address, city and any comments/ questions you might have.