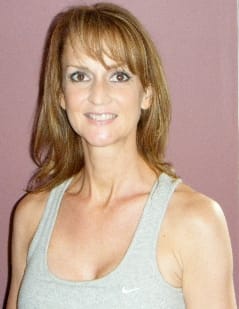 Providing Personal Training in: New Tripoli PA, Schnecksville PA, Germansville PA, Allentown PA, Kutztown PA, Macungie PA, Breinigsville PA, Walnutport PA, Lehigh Valley PA  
Hi my name is Chelle. I am a Personal Trainer in Hellertown PA and the local areas in the lehigh valley. I have been helping clients incorporate strength training in their lives for 25 years, working in some of the top gyms in New York City, like Crunch Fitness, as well as independently.
I specialize in weight training, functional exercises, improving core strength (using stability balls, medicine balls, BOSU balls) and sport specific training (i.e., tennis, golf, baseball).
Stretching, flexibility and nutritional guidance are also given to improve the overall health and well being of my clients, who have ranged in age from 12 to 92.
My passion, warmth, motivation and humor will support you in reaching your goals and make exercising fun! We can train together in my home studio or at your house. Whatever works best for you.
Lets set up a consultation today!
Personal Trainers in Hellertown PA Chelle.
Personal Fitness Trainer, AAAI/ISMA 1994 – present
Weight Training Consultant, AAAI/ISMA 1996 – present
Sports Nutrition, AAAI/ISMA 1997 – present
CPR/AED Adult, Red Cross
Weight Management Consultant
AAS degree, Fashion Buying & Merchandising, Fashion Institute of Technology, NY, NY
Learn more about Personal Training with Chelle. Submit your name, e-mail, address, city and any comments/ questions you might have